How the CARGO-SAFE™ Ultrasonic Hatch Cover Tester works
The CARGO-SAFE™ works in a very simple way. After the hatch covers are closed, the transmitter generating an ultrasonic signal is placed in the cargo hold, which then emits ultrasonic waves(the cargo hold can be empty or loaded with cargo).
The surveyor or operator then uses the CARGO-SAFE™ ultrasonic receiver to 'listen' from outside of the hold and detect any ultrasonic sounds that pass through any holes in the hatch cover with pinpoint accuracy. The size of the leak can be established by the strength of the signal detected.
The CARGO-SAFE™ hatch cover leak detection system has three levels of emitters: upper, lower and vertical. This means that ALL of the ultrasound is directed to the hatch covers, optimising its effectiveness.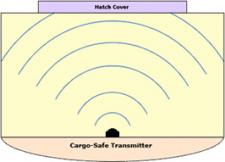 The diagram shows the dispersion pattern of the ultrasonic sound emanating from the CARGO-SAFE™ transmitter.
The CARGO-SAFE™ has a high sound pressure level, so it is ample enough to fill even the largest of holds, to enable reliable and accurate readings.
The CARGO-SAFE™ transmitter is placed in the cargo hold.
On the deck, with all the hatches closed, the microphone and headphones are plugged into the receiver.
The surveyor begins to inspect the hatch, holding the microphone against the hatch seals. Any gaps that either air or water could pass through will also allow the ultrasonic signal to pass through – and be detected.
The display on the receiver shows the decibel level of any ultrasound leaking through the hatch seals. The signal can also be heard through the headphones.
The flexible microphone and the extension arm allow the position of any potential leaks to be identified with pinpoint accuracy. The size of the problem is established by the strength of the signal detected.
The main cause of damage to cargo is the ingress of water through leaking hatch covers. It is in the best interests of ship owners, managers and insurers to guarantee the ships cargo holds are watertight. If water does leak through hatch covers, it often results in large claims against insurance companies and P&I clubs.
CARGO-SAFE™ is an ABS Type Approved hatch cover tester. The CARGO-SAFE™ UT tester provides a quick and simple method of establishing weather-resistant tightness of hatch covers, bow, stern and side doors.
Unlike hose testing, the CARGO-SAFE™ has no negative side effects on the port or harbour environment and can be performed in sub-zero temperatures.
THE COMPLETE CARGO-SAFE™ HATCH COVER TESTING KIT INCLUDES:
Ultrasonic Transmitter unit
Receiver unit
Protective IP66 storm-proof leather cases with neck and waist straps for hands-free operation
Hard hat compatible headphones
2 Flexible inspection microphones (1 spare)
Telescopic microphone extension, up to 1.15m (45″)
Full operating instructions
Emergency microphone lead
Emitter, microphone and extension arm tester
Batteries and global charger (with 12V car adaptor)
12-24V auxiliary power input lead
450 x 320 x 100mm (17.7″ x 12.6″ x 3.9″) foam-lined black polymer carry case
CARGO-SAFE™ can be used to test the tightness and water integrity of:
Cargo hatch covers
Bow and stern doors
Access hatch seals
Watertight doors
Weathertight doors
It is compliant with port and harbour environment regulations and management plans as it does not pollute the marine environment
It can locate holes and tears in hatch seals with pinpoint accuracy
It causes no damage to cargo
It can be conducted in sub-zero temperatures
it can be used with the cargo in place
It does not interfere with other crew activities
It is simple to use
There is no training required to use – full instructions are given
Can be carried as hand luggage on an aircraft
The LCD screen allows you to read it in any lighting condition.
Switchable between dB (decibels) and percentage of OHV (Open Hatch Value).
The CARGO-SAFE™ is sold with a device that can be used to check the emitters, the inspection microphones, the extension arm and the microphone emergency lead (The EMEA Tester). It is recommended that this is complete between each survey to ensure accurate results.
The CARGO-SAFE™ hatch leak detector is calibrated at the factory and we predict it will stay calibrated for 5 years.
The constant output circuitry guarantees that the ultrasonic output of the transmitter is constant throughout the entire battery life. You can see this by the green flashing LED's.
Each CARGO-SAFE™ unit is sold with a certificate of calibration and conformity, with full warranty and all details of serial numbers. This is evident in each units calibration and ABS type approval compliance. The CARGO-SAFE™ comes with a certificate of origin proving it is manufactured in the United Kingdom.
The CARGO-SAFE™ hatch cover tester complies with the IACS UR Z.17 directive.
CARGO-SAFE™ is a lightweight ultrasonic system for testing the water tightness of cargo hatch covers. The complete system is contained in one carry case for convenient transportation.
Shipping Weight: 4kg (8.8lb)
Operational Weight: 2.4kg (5.3lb)
Transmitter –
Weight – 475g (1.05lb)
Dimensions – 190 x 100 x 60 mm (max) (7.5" x 3.9" x 2.4")
Output – 157 dB @ 40 khZ
Radio control standby to save battery life when not in use
Power supply – 6 x AA rechargeable or alkaline batteries with 4.5 hours of operation
Weather-resistant leather case to IP66, designed to protect if dropped.
Neck strap for easy hands-free use
Receiver –
Weight – 350g (12.3oz)
Dimensions – 160 x 100 x 30mm (6.3" x 3.9" x 1.2")
Power supply – 1 x 9v PP3 rechargeable or alkaline battery with 40 hours nominal usage
Switchable between dB and percentage of Open Hatch Value (OHV)
Can be used with headphones, or an internal loudspeaker can be used instead
Can be used with a microphone, or internal microphone in the event of mic loss
Weather-resistant leather case – IP66, designed to protect if dropped
MAX HOLD capability to record maximum readings
Backlight button with ON/OFF or automatic OFF after 30 seconds for battery saving when not in use
Radio control button to switch from ON/Standby/OFF etc
Neck and waist straps for hands-free use
Microphone –
Weight – 110g (3.9oz)
Dimensions – 330 x 10mm diameter (13" x 0.4")
Bright yellow to aid visibility
Headphones –
Weight – 50g (1.7oz)
5mm stereo jack plug
Hard hat compatible
Emiiter, Microphone and Extension Arm Tester –
Weight – 17g (0.6oz)
Dimensions – 46 x 31 x 20mm (1.8″ x 1.2″ x 0.8″)
It is used to check the performance of the emitters, microphone, and
the extension arm of the CARGO-SAFE™ before a survey
Extension Arm –
Weight – 150g (5.3oz
Dimensions – 390 x 40 x 30 mm (15.4" x 1.8" x 1.2")
Dimensions when extended: 1150 x 40 x 30mm (45.3″ x 1.8″ x 1.2″)
Wrist strap for hands free use
Spare Microphone and Emergency Lead –
To be used in the event of either microphone or extension arm loss
Battery Charger and Batteries
12 x rechargeable AA batteries (for transmitter)
2x PP3 9v batteries (for receiver)
Global battery charger with car adapter
Emergency Power Lead
For emergency power to the transmitter in the instance of a failed battery
Can accept an external power supply of 9 to 24 volts DC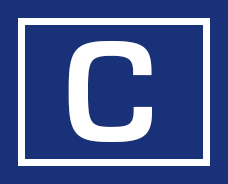 International Customer Base and Exceptional Service.
Accreditations and Affiliations
ABS Type Approved Equipment